Clan [dp] was founded in early 2004 by Ragnarok and Punaxe, two DOOM addicts who forced their friends to join them in battle. Thus in the beginning, clan [dp] consisted only of people knowing each other in real life. Later on, others started to join [dp]: JackInTBox, Malvado, Evolution, ... and there are more people waiting in line every day. Because, well, duh?


[dp] members now are: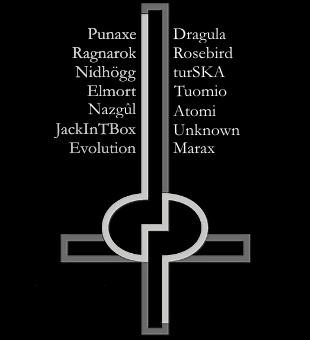 Click on their names to get to know them a little more than just by name.
Note that we have removed the ranking for now. Anyone willing to make us a nice ranking, let us know. :P
Past members:

T-Bonezzz
- kicked for misbehaving

Ristijatka
- short time member, still always welcome

Dakota
- sorry to see you leave... (~punaxe)

Isidor
- never played: didn't care

Soulstrike
- kicked: caused too much trouble

Malvado
- private issues

Finney
- is still wondering why he left

AP3X
- personal issues. hope you're doing well man :(

FairLight
- got banned and decided never to return

Hawk
- had enough of the drama

Izm
- hopelessly disappeared :(

Aurelian
- hopelessly banned :(

WeaponX
- relation to clan business did not work out

ZAHAR
- preferred to slaughter in real life

Jemek
- victim of [dp] cleanup

Timothy
- victim of [dp] cleanup

Shiva
- victim of [dp] cleanup

Mephisto
- "lol doom"

Phoenix
- chose the french side
To see how they were do(om)ing on csDoom, click
here
to go to the fragstats of Kegety's csDoom server.
At
ZDaemon.org
you can see how we do(om) on most ZDaemon-servers
right here
.
[dp] Owning Pictures and Screenshots

[dp] member files

[dp] demos

[dp] dump