For those who has been bugging me for months to write a story about this roadtrip and for all those who will bother to read all this ;)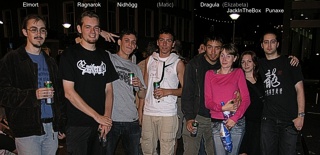 This is the story of my roadtrip to Holland. It all started as a joke with me asking one of my best friends(Matic) if he would go with me to Holland, but then I saw there was some true interest in this, so from a joke we started planning this trip and realized that this was actually quite possible. We even found a third member, Betty. On 9th of July we went on our long way to Eindhoven. We have been driving for 14 hours, there was lots of traffic in Germany and fuckin bad weather, very annoying. Luckily the raining slowly stopped when we went past Munchen. We arrived in Eindhoven when it was almost night.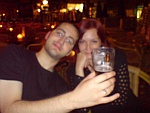 I finally met Laurens and Janika at the train station, then we went to Pun's place to unload the car and out celebrating after that. Oh yeah, we made Laurens and Janika drink a beer together, unbeliveable eh? :D We spent 3 days with them, going around...


to Breda, where we played on this fantastic playgrounds in the forest, very cool. :P They also showed us Eindhoven, the big media center and the amazing toy shop, where I wanted to buy this gigantic teddy bear or dog and the robot dogs and the laser pistols and... and... , but Betty didnt let me :( Matic tried to eat in every fast food of the town when we were trying to find a coffee shop, with no success. Instead of weed we found this. ;) I almost vomited all over the table!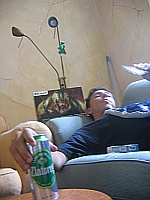 And even if I said that I wont play any games there in Holland, I did play one against Jacky on king1? guess what... I WINS :D We had some nice moments with teh girls cooking, teaching Janika and Laurens how to play cards, me and Matic drinking beer most of the time, Janika giving us this crazy salmiakki things, etc. This is what I remember the most from Eindhoven... some moments are just like blackholes due to alcohol and all the time that has passed, I guess... I should have written this earlier :P

allright... on the last day we went all together to Rotterdam and first thing we did there was getting lost in the fuckin big city:D we parked the car somewhere near the train station (thanks to punaxe who used his magic paycard) :roll: we went straight to some pub after that :P and around the city looking for this, and guessssssss what we passed during our search... we found the hotel where WeaponX stayed when he was in Holland. :lol: so we went around the city and then Janika and Laurens left for Eindhoven. We went looking for a camp near Rotterdam and also found one pretty quick, a very nice, quiet one (before we arrived :D )! We stayed there for two nights.
What happened there isnt really that interesting, we visited the most known places in Rotterdam like the highest restaurant in Europe and the little China on a chinese ship. Oh right, we finally found a coffee shop there... it was crazy, full of weird white ppl like stew and niggaz drinking cocacola or fanta with joints in their hands, so Matic thought it was a good idea to try one :o so we just ordered a "green" one, whatever that was... was kinda strong, he was feeling funny till he got on the train where he vomited and then this crazy guy came for tickets, speaking this weird dutch language lol :D I thought he was gonna throw us out ;) and then when we were walking for 3 kilometers towards the camp, Matic thought he was an aeroplane and nearly flown in some nasty brook by the road :D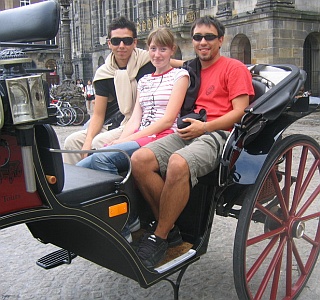 Anyways... our next stop was Amsterdam, we left the car at the camp and went to Amsterdam by train. Not having the car with us, we decided to go around in a carriage 8) and then with a little boat through the canals by ourselves. There was some brasilian bar which was so cool and where we had tequilas:D of course we also visited the street where WeaponX got AIDS and the big Amsterdam arena and lots of other places... I think we spent 300 eur each during those 3 days in Amsterdam, a big part of that money went for beer I guess :P anyways it was great there!
after Amsterdam we went back to Rotterdam to get my car and then we went to see the windmills where Betty broke a bike we rented there, luckily me and Matic managed to fix it somehow that it seemed OK and we got back our money we had to give in advance (50eur), we just took the money and ran away :D
so we met again with Janika and Laurens in Nijmegen that day(hell yeah.. they still had my laptop :P) and we also met Ragnarok, Elmort and Niddhog! We had some beers and fun together that night...the next day we were still a little fucked up and had to leave for Slovenija, sadly we spent almost all our money and Betty had to go back, because of her job, so yeah... our trip was really over, but it was great till it lasted, anyways i wish ill be able to come back someday and meet with you all again... I somehow miss those moments we had there in Holland, too bad we dont live closer to each other!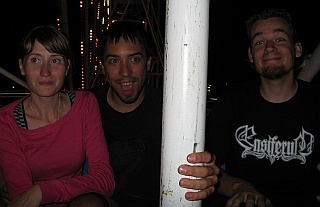 For those who wonder how all these ppl are... Ive met them and i can tell that... Laurens and Janika are kinda SERIOUS PPL, peaceful, nice and funny(they laugh sometimes :D), Niddhog and Elmort are the funny guys, they drink and make jokes, a lot like my drinking buddies ;) and last, but not least important Ragnarok... he is a scary big guy, psychiatry material if you ask me, stay away! ;D jokes... hes cool too, they are all cool! :D like dp cool ! on top
p.s. when I came home, the next day ive met with my imaginary friends to tell them about Holland, its crazy houses, millions of bikes invading the city and especially my crazy neighbour couldnt believe that you can smell weed on every corner of the street there in Amsterdam! :D